In the West we read from left-to-right, top-to-bottom and this dictates how people engage with email content. Inboxes are crowded, busy places – before committing their full attention people are going to scan-read.
The style and depth of this scan-reading primarily depends on 4 engagement factors:
The content – its perceived value. Is it high quality, useful and engaging?
Its structure – what elements increase sense, accessibility and visual indexing?
The sender – what trust, credibility and brand awareness have you built?
The timing – how relevant is the content and is the reader ready?
In essence: Send high-quality, relevant and well-structured content at the right time to folks you've built credibility with.
The scanning pyramid
In order of increasing engagement, these 4 engagement factors determine the reading behaviour of recipients - how much they're just scanning text - and form the layers of the scanning pyramid: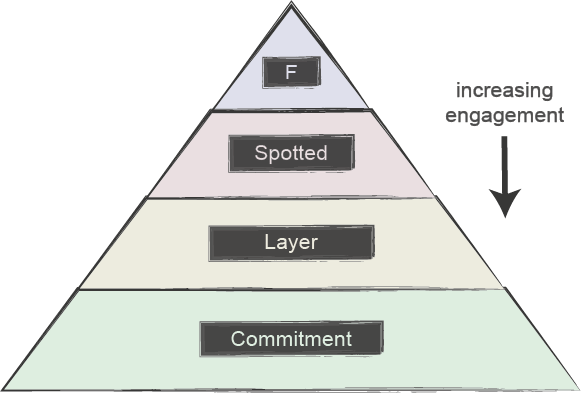 F-pattern – the least engaged readers will scan the start of sentences. Starting top left, these scans quickly shorten so that, after only a few lines, only the first word or so is scanned.
Spotted pattern – here readers have a preconception of specific information they're looking for. What did your subject line and header promise? Primary focus is on headings, image captions and bullet-points looking for matching text snippets.
Layer pattern – as with Spotted-pattern scanning, readers are looking for specific information. But this time they're more invested. They will scan for relevant subheadings and then read through that entire section.
Commitment pattern – the reader is all-in. Your email content is engaging and its flow is maintaining that engagement.
How to structure your content
You send high-quality, highly-relevant content to your target segment of red-hot leads at just the right time… how can you structure your content to improve engagement and cater for all these scanning patterns in a single email?
Make your opening paragraph a clear and concise hook
Use visually distinct, catchy and informative subheadings
Create clearly separate chunks of related content
Use images to demarcate sections, provide clarity and break-up text-heavy emails
Give key words and phrases emphasis through bold and italics
Use bulleted or numbered lists to break-up dense information
Make inline links descriptive to prompt specific user action
Ensure readability by using suitable font size and line lengths
Give your content breathing room with plenty of whitespace
Maximise the effectiveness of well-timed quality content by structuring it to engage with different reading behaviours.